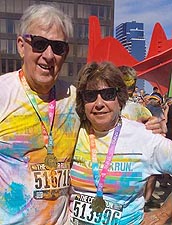 This born and bred Michigan gal moved to Raleigh, North Carolina in the fall of 2020. Land of the Tar Heels, blue skies, sandy beaches, pimento cheese and BBQ ribs. Not necessarily an easy move…left a lake beach behind where the family came to play often but, a warmer climate called out, said now or never.
This wasn't my first major move: I've been transplanted several times.  East coast, south, southwest, north and back again. A nice, long stint in Europe, too. With Michigan always in the background, the return-to point. Cabin in the woods or lake life, it kept me close to nature. The moves, however, taught me that family and people make life exciting but home brings pure satisfaction. I just have a need to live the good life and make 'home' the place I'm destined to be. So now this face and a strange birthdate appears on a North Carolina license. I have to be careful, though, not to get between Duke and UNC fans and root for the 'wrong' team. Go..Go…repeated several times without an emphasis on who.
The advantage of this particular relocation is the fact I get to pursue my love for writing and painting. Distractions limited, output to the max! Full Time---got that---Full Time. (I keep my own timeclock and full time hours are extraordinarily flexible!) An office with a view, nice music in the background….the creative outlet is perking like a fine brew.
A wish is that the attached photos will continue to enlighten others as they have me. The one taken in Color Run…hope to repeat it but not in Raleigh's July or August. (You can see more of my favorite photos on my Moments page.)
My bigger wish is that an interest in my stories will continue to grow. So many characters from the past, so many more to introduce you to. Rosie has peacefully passed on, Allen is turning into a fine young man, Dr. Sherman is single again, Betty is looking for a husband who isn't afraid of work or snakes that kill, Wally has got a couple woman chasing after him, Kathleen, will she ever meet the right guy. The list is growing.
I live by a lake so my need for water is always filled..kayaking, paddle boarding or boating. I also enjoy travel, playing with my grandson, and supporting worthwhile causes. The photo above was taken of my husband and me at the end of the 2015 Grand Rapids Color Run ..wa hoo...record time!
Visit with me at EmersonWrite@hotmail.com. Look for me on Facebook. Check in on the website often for book deals or current news. Click through my paintings, and if you like what you see, drop me a note to commission one for your own wall.
In the meantime….ENJOY!