MOON SHADOW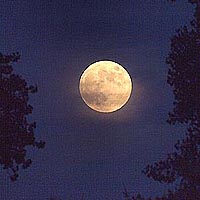 Kathleen Wernette has married the man of her dreams. She's only nineteen but sure of her love for Evangelical Preacher Jacob Carr who's seven years her senior. He's divinely pleased about the union God has granted. But when two souls converge, one a naturalist at heart and the other a man of religious conviction and constraint, the outcome isn't guaranteed to be a match made in heaven.
Kathleen and Jacob's passions are fueled by different sources. On their wedding night, Jacob wedges a holy book between them and the ecstasy of love is restrained by the purity of procreation. Jacob's hell bent determination not to spoil the sanctity of marriage with guileless passion leaves Kathleen with little desire to bring a child into the world. But they are legally married and what God joins together can't be easily parted by sexual dissatisfaction.
After five years of dedication, five years of long, lonely nights, the unhappy bedfellows reach a milestone as they attain their personal accomplishments. Kathleen finishes her college education and teaches at the church's elementary school, and Jacob assumes the reins of his father and grandfather's church.
But the lone act of betrayal by a man Jacob intends to save for his god's pearly gates forces the married couple to re-examine their union. Abducted during a winter storm, Kathleen endures a brutal assault and she has to re-evaluate the terms of her commitment. Jacob says turn the other cheek. Forgive and forget? Is a legal document good enough reason to hold on to disloyalty, a fractured marriage?
Jacob's religious beliefs have not brought them closer together. Should Kathleen take the high road or pursue her dreams? When it's time for a decision to testify against her assailant who could be put away for a long time, she isn't prepared to make the commitment. She leaves Carrville in hopes of finding in herself the young women who chose love as a guiding force. If she reaches her North Carolina destination, will the shadowy past catch up with her?
If Shades of Grey is a tantalizing portrayal of fantasy and sexual diversion, Moon Shadow is a mystifying revelation about religious conviction and a passionless marriage. From the day of Kathleen's late afternoon wedding until the sun rises five years later, Kathleen dances in the moon's shadow. Hanging on to hope in pursuit of an ideal love....
Approximately 80K, Moon Shadow is ready for publication. The story is a good fit in the women's fiction or mainstream market. The controversial aspect of the story, structured religion pitted against secular beliefs and desire, can add to its market value.
Moon Shadow is first of three in the Kathleen Wernette series. Book two is New Moon (see below), where Kathy finds a new career and confronts her pursuer. She wants Les Farrell dead but what effect will it have on the child she is carrying? Book three, Moon Light, with Jacob Carr back in her life, reveals Kathy's need for emotional support while she raises the child of the man who assaulted her. Love and commitment keep Kathy at odds with what she wants out of life.
Publishers and agents: For a sample of Moon Shadow, please feel free to contact me at: EmersonWrite@hotmail.com