Thanks for visiting my website!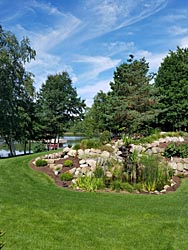 As you can see by my photos and art work, I like the cool, calm, peace of the outdoors. You may encounter though, when you breeze through the website, more than the blue sky of spring, the balmy breezes of summer, the blaze of bold fiery colors of fall or the icy crust of winter. In fact, you may uncover an array of sights that sing of a spring robin or sting like an Artic storm.
I've never been one to settle for the ordinary.
Perhaps that is why I choose to live in a place known for its unstable weather. Michigan has a temperament that only a Diva understands. Its weather pattern is a true phenomenon. Totally unpredictable. Once, with a July vacation up north in mind, I packed for tepid, if not warm, weekend. Surely it would be in the high seventies, if not eighty. Shorts, sleeveless tops, sun tan lotion. Not to my dismay but certainly to test my fortitude and adaption skills, I encountered a weekend of high winds, a daytime of forty-five degrees and a sky filled with so many stars, it took my breath away. We sat in front of a campfire most of the time. Roasted hot dogs were gourmet to the max.
So when I relinquish the 'real' of me, through art, writing or photography, there is no set theme, no programs, no expectations. I'm all four seasons. As for lessons in life, usually learned in progression, there have been particular events that led to an awakening. Life is a constant shuffle, a flow, an upset, a dichotomy. Spring, summer, fall, winter. A turn of events that can make you laugh until you cry. Or a turn of events that will make you cry until you are dry, empty.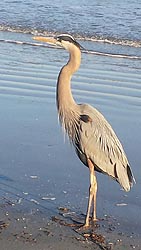 Thus I explore the WHO, HOW, WHERE, WHEN and attempt to uncover WHY.
What I hope to project in this website is the eagerness to dive into everyday experiences. Those events, those stories that you and I share because of their reality.
For instance, the handsome fellow on the left is a beach buddy I met in Hilton Head, South Carolina. He let me capture him on the shoreline, five feet between us, in all his grand masculine glory. I knew this beautiful creature was male because a female would be preening…fixing herself for the camera.
Yes, I am a writer now. A varied past…youth has its distortions about who and what one should achieve. Wide-eyed at one time, wife, mother, nurse, explorer. Seasoned, writer, artist…I don't know when one begins or ends. No one role is exceptional or universal. Life is an ongoing process.
I'm in the midst of understanding yesterday, discovering what life will offer tomorrow.
In the meantime, I want to share, Who, How, Where, When. I've encountered remarkable people. They appear in my stories. Our paths have crossed, we will meet again. Not all stories are enlightening or even delightful. The essence of life brings us glory, sadness, revelation.
Share your journey. I'll share mine.
Welcome to my world…..