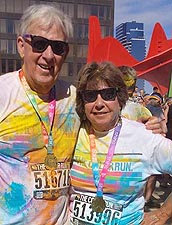 I am a Mid-Michigan resident who lives in beautiful Canadian Lakes. The setting provides peaceful inspiration but often my characters are drawn from extensive travel throughout the U.S. and Europe.
After twenty years in the health care profession, I decided to pursue a long held dream to write novels for publication. My main focus is on mysteries but my first success came in women's fiction--Taking Rosie's Arm, which I recently reworked as Autumn Rose, Book 1 of the Rosie MacIntosh Series. I frequently contribute to Smashwords.com where you can find suspense, humor and good old fashion romance with happy endings.
My creative outlet has a few arms. Never one to shy away from multitasking, I am the Emerson chef, Bar-B-Que meister and campfire tender. During some relaxed moments, I take up a brush for painting acrylic ocean and nature scenes, still-life and whimsical flowers. Take a look at What's on Canvas to see the latest rendering.
Because of my interest in nursing and the medical field, I serve as director of a prescription assistance service. Along with several volunteers, I obtain prescribed medications for individuals without prescription insurance or who have fallen into the 'low income' bracket. This work is a very satisfying endeavor.
I live by a lake so my need for water is always filled..kayaking, paddle boarding or boating. I also enjoy travel, playing with my grandson, and supporting worthwhile causes. The photo above was taken of my husband and me at the end of the 2015 Color Run) Grand Rapids Color Run ..wa hoo...record time!
Of course, the writer prevails, and there is always a work-in-progress as well as reviews of other authors' work, mostly in Crime and Suspense.
I like to hear from my readers, so please take the opportunity to write me at EmersonWrite@hotmail.com. Also, feel free to stop by my blogs: Blog Spot and Wordpress.