AUTUMN ROSE (Orignally published as TAKING ROSIE'S ARM)
"We should all have a Rosie in our life. Once I started reading [this book], I couldn't put it down. "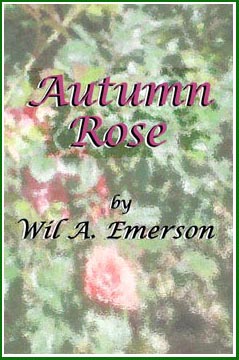 "...the riveting story of Taylor Thomas and her journey from emotional defeat to a profound sense of personal joy.... When Taylor finds herself embroiled with the consequences of bad decisions and family members with problems even greater than her own, she becomes involved with 79 year old Rosie MacIntosh. The two women form a friendship to help Carolyn (a middle-aged woman debilitated by disease and depression) and in the process Taylor learns invaluable lessons of compassion, wisdom, and love. Very highly recommended reading, this is a superbly crafted novel from first page to last!" -- Midwest Book Review about Taking Rosie's Arm, April 2002.
You'll find Autumn Rose, the updated, new edition of Taking Rosie's Arm, as refreshing as a---rose. A new blossom is always enlightening. However, the last rose of summer can prepare the heart for a long winter.
Taylor Thomas has fallen behind on her plans. Her eye on the future has been thwarted by unplanned and self-chosen obstacles that block her path. She's short on confidence and doesn't always make the wisest decisions.
As a nurse's aide with a flexible schedule, Taylor can just pay her bills. That is, until an elderly client informs Taylor she needs to keep her commitments or risk losing her job. The client, Rosie MacIntosh, lectures but pays well enough for young Taylor to complete college courses that may lead to a better life. Rosie's subtle demands, though, come with ulterior motives and if Taylor doesn't see the light, the path may be unsteady for both of them. Fifty years separate the two women but the need for family and unconditional love brings them closer together.
Order Autumn Rose in Kindle format from Amazon.com
NOTE: Autumn Rose was originally published in hardcover in 2002 by Five Star First Edition Women's FIction Series, under the title Taking Rosie's Arm.